Legacy Composer Film Series
CMC BC's Legacy Composer Film Series celebrates the very first generation of composers to do something quite revolutionary — write Western concert music on the West Coast of Canada.
Made possible by a grant from the BC Arts Council, the films focus on five of these BC Legacy Composers: Murray Adaskin, Barbara Pentland, Rudolf Komorous, Jean Coulthard, and Elliot Weisgarber. Each of them contributed something unique, completely new and remarkable to the nation's cultural mosaic, both through their body of work and the living legacy of students they inspired.
Produced and directed by Award-winning filmmaker John Bolton, the five short art films range in length from just over eight to fourteen minutes. Each film features a performance of a signature work by the composer juxtaposed against a storyline unique to that piece, the performers, or the composer.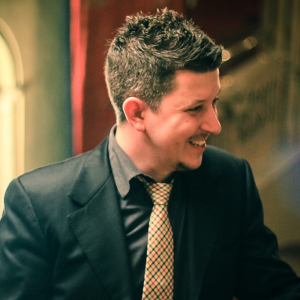 John Bolton, Filmmaker
John Bolton is an award-winning filmmaker from Vancouver, Canada, preoccupied with revelation, consolation and transcendence, sometimes even in that order. He produces, writes and directs dramas, documentaries, performing arts pieces and the occasional disaster film through his production company Opus 59 Films. John's most recent films are the feature length "musical docudrama" AIM FOR THE ROSES (in association with the Canada Council for the Arts and the British Columbia Arts Council), about Canadian musician Mark Haney and Canadian stuntman Ken Carter, which had its world premiere at Hot Docs and which was DOXA's opening night film; and the short documentary DEBRIS (for the National Film Board of Canada), about Tofino, BC-based "intertidal artist" Pete Clarkson and the making of his most ambitious and personal project to date — a memorial to the 2011 Great East Japan Earthquake & Tsunami, made entirely out of marine debris from the disaster — which had its world premiere at the Vancouver International Film Festival.