Murray Adaskin Salon
Named after beloved BC composer Murray Adaskin, the Salon is a uniquely intimate, affordable, completely accessible, 44-seat black-box theatre in the heart of downtown Vancouver. The Salon comes complete with 46 audience chairs, 9 Manhasset music stands, 5 Wenger Musician Chairs, and 4 folding tables. The elegant, street-level lobby features a refreshment bar, box office, and accessible bathroom, in addition to a second bathroom and kitchen upstairs.
CREATE Boardroom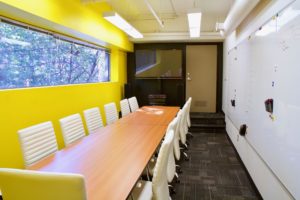 TEMPORARILY UNAVAILABLE
Our sunny, second-floor, 14-seat CREATE Boardroom is designed to facilitate creative collaboration and comes fully equipped with A/V and distance-meeting capabilities including a 60″ HD Plasma screen with HDMI & VGA inputs; 16' x 5' Whiteboard Wall; large flip-chart easel; and stereo sound system with CD, DAT and Vinyl. The second floor is only accessible by a flight of 19 stairs.
Collaborate • Reinvent • Explore • Analyze • Transform • Examine
Heintzman Salon Grand Piano
Murray Adaskin's 1960 Heintzman Salon Grand Piano was manufactured at the very apogee of Canada's finest piano maker and has a gorgeous, warm sound. It has been played by Sir Ernest MacMillan, Benjamin Britten, Mario Bernardi, and John Newmark, and holds a unique place in BC's musical history. The piano was purchased in 2006 with the help of the BC Registered Teacher's Association, and was lovingly rebuilt and is regularly maintained by Scott Harker. It comes with a matching wooden bench or a Frederick Adjustable Piano Chair.
A/V System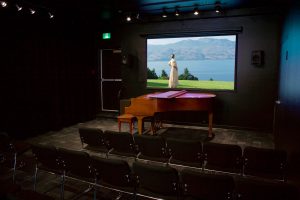 The Adaskin Salon features a 110″ high-definition screen A/V projection system with MacMini, HDMI, and VGA inputs, and Stereo ADAM F7 studio monitors. A tech desk is available inside the box office with cable pass-through and direct view of the stage area.